Dizin Hotel 1 or Dizin Hotel 2?
Dizin Hotel in Iran is the name of an accommodation complex that is located right next to Dizin Ski Resort. There are many foreign skiers who take a trip to our town here to experience skiing in Iran on Dizin snow. Still, I was surfing the net yesterday and I noticed a very common wrong idea among the users that they think Dizin Hotel 1 and Dizin Hotel 2 are two different hotels. Actually these are the wrong names used mostly by foreign tourists for the two large buildings that both belong to Dizin accommodation complex.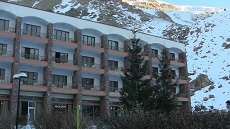 Book a Room at Dizin Hotel
Dizin Hotel 1 Renovation Started The Whole Thing!
Both of the large buildings belonging to our hotel in Dizin were built in the 60s and their old-school architecture is kind of nostalgic for many Iranians. It was around 5 years ago that Dizin Hotel shut down one of the buildings_ building No 1_ for renovation and since then the tourists started using the word Dizin Hotel 2 to refer to the other building that was still open. By the time the renovation job at Building 1 was over and "Dizin Hotel 1" was open, Dizin hotel 2 was considered to be separate hotel with a management of its own. At this moment that I'm writing this text_ Jan 2016, most of the skiers who have already stayed at Dizin Hotel advise the ski lovers to make a reservation at Dizin Hotel 1 for accommodation because of its better facilities and also better view of the slopes and the mountains.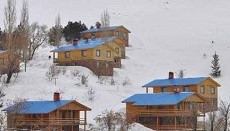 Dizin Chalets and Cabins
Aside from the two large buildings, there are more than 15 cabins or chalets in Dizin that are also owned by the hotel. Dizin chalets that have been built in the same style of those in Switzerland's mountains, are commonly referred to as "cabins in Dizin". The reason behind this usage is that the locals here use the word "cabin" for Swiss chalets and foreign tourists have also picked up this word usage. Despite their higher rates compared to the rooms and suites at the two buildings, these chalets are preferred more often by the tourists who think of them to be more traditional and also more private.
Book a Room or a Chalet at Dizin Hotel
11/29/2017 6:00:38 AM
---
0 Comment(s)
Average Rating:
Comments and Reviews