Iran Dizin Ski Resort
The number of internet users who googled the phrase "ski Iran" hit a new record last month and for good reasons. There are several great Iranian ski resorts with Dizin Ski Resort being the biggest and most popular one. Located at the heart of the stunning Alborz Mountains in the north of the capital Tehran, the gondola takes you to an elevation of 3600m above the see level. And there you can choose between easy to ride runs or more challenging black runs for the more experienced amongst you. Covering 470 ha of skiable area and 23 pists to choose from, Dizin offers the best of Iran skiing experience. This resort is not as big as the huge Austrian ski resorts, yet it is surprisingly big and you will have a great day on the slopes. Take a look at Dizin Ski Resort map below to get an impression: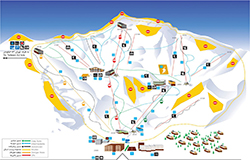 Ski at Iran's Alborz Mountains For 4 Month
Depending on the winter, Dizin snow can be between 2 to 6 meters deep and due to the resort's high altitude, the snow is quite powdery which is great. On the weekend, Thursday and Friday (weekend days are different in Iran), many Iranian skiers head out of Tehran to ski at Iran's Alborz mountains. But if you come here in the middle of the week, you pretty much have the resort to yourself. As for the ski season in Iran, it starts from Dec 15 and lasts until April 15.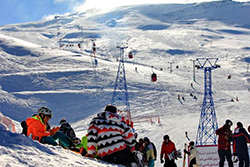 Dizin Ski Resort Pass and Prices
Opening hours at the resort are usually from 8 am to 4 pm and it is open every day. Dizin Ski Resort pass is cheaper from Saturday to Wednesday but on Thursdays and Fridays the prices go up. The prices include a deposit for the tag they give you to open the gates with. You can return the tag at the end of your trip or keep it as a souvenir from skiing at Iran's ski resorts. If you happen to be there in spring, grass skiing is a big thing. When the snow melts, people continue skiing on grass. It is a serious sport and even an international grass skiing competition was held in Dizin Ski Resort a few years ago.
Note: To get updated on the prices text us at 00989353836810 via What's App.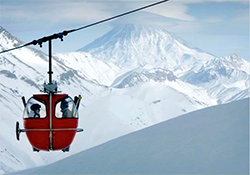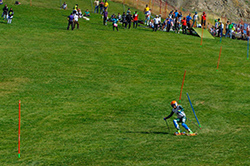 How to Get to the Best of Iranian Ski Resorts; Dizin
Dizin, this best of Iranian ski resorts, is located at 130 km outside of Tehran (about 3 hours). The whole region is embraced by Alborz Mountain Range, but getting there is easy enough! There are two ways of getting to Dizin Ski Resort. If you are on a budget trip, choose option1 below which is the cheaper option, but also more complicated. For the more convenient way of getting to Dizin choose option 2.
Option 1 (cheapest option): Take the local bus from Tehran West Terminal (next to Azadi Tower, Azadi Metro Station) heading up north to Chalus Road(Road 59). Buses run frequently all day and cost you only little money (around 5 Euros). Tell the bus driver to drop you off at the intersection to Dizin just after the village called "Gachsar". There are English written signs along the road saying "Dizin Ski Slop" which is not a typo, it's how they spell it :) and then comes the tricky part; from there you need to hitch a ride in a local car that will take you to Dizin Hotel for the remaining 10 km.
Note: Hitchhiking in this area is fairly safe, but never 100% safe. Therefore, just as in any other country in the world, use your common sense before getting into someone's car.
Option 2 (most convenient option): Iran Tourists Transportation Service (IranTTS) offers private shuttle to the resort. You can book a private shuttle from Imam Khomeini International Airport or from any hostel or hotel in Tehran.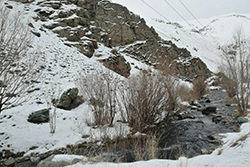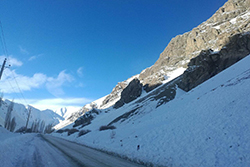 Renting Ski Equipment at Dizin and Iran Skiing Gears
Don't worry about bringing your own stuff. You can easily rent your whole ski equipment here. Most Dizin rental places have a good selection of carving skies (Fisher, Salomon, Rossignol), and for the more ambitious skiers there are even Rossignol skies with 70mm width. Snowboards are also available but with a smaller selection than skies. Rental places also provide boots, poles, goggles, helmets, pants, jackets and gloves. Don't forget to bring your hat and socks, because these they don't rent. But don't worry, there are plenty of Iran skiing shops, from which you could buy a new beanie in case you need to. The cheapest way to rent equipment is in the village called Velayat Rud, just before Dizin slopes. You will find plenty of rental places. There is a cheap and good place just across the street from Seven Hostel in Dizin, about 100m after the village center. Rental places that are located at the resort itself are slightly more expensive. Expect to pay about 5 $US more than in Velayat Rud.
Renting Ski Equipment Prices in Dizin
We can give you a rough idea of the costs (Dec 2016), but prices can change.
A set of ski, boots and poles in Velayat Rud: About 15 $US
A set of ski, boots and poles at the resort: About 20 $US
A pair of pants, a jacket, goggles … will cost you about about 3$US a piece.
In Velayat Rud you can also find original stores of international brands such as Head, Salomon, Rossignol or Fisher. They sell everything you might need for skiing (jacket, pants, ski, boots …). Prices are just like in Europe though, don't expect any bargains. E.g. a pair of pants will cost you around 200€!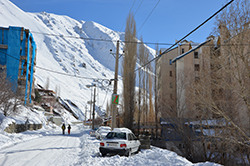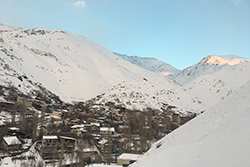 Dizin Ski Resort School and Phone Number
Dizin Resort offers a ski school addressing all levels (from beginner to experienced, or even for ski touring). For more information and prices please contact Dizin Ski Resort phone number via What's App at 00989353836810.
Dizin Hotels and Restaurants
Along the way to Dizin slopes, and particularly in Velayat Rud you can find plenty of local shops and convenient stores, where you can stock up on water, fruit, biscuits, chips, etc. There are also some restaurants in Dizin to go out for dinner.
Seven Hostel in Dizin, located in Velayat Rud, is the only available hostel in this area. It is a cozy place with dormitories for up to 10 people and 3 private twin/double rooms.
The hostel offers a free shuttle service to the resort every morning, leaving at 8 am and picking you up again at 4pm to bring you back to the hostel. Velayat Rud is only 4 km away from Dizin Ski Resort and the shuttle in the morning takes less than 10 minutes. The hostel is conveniently located in the village and has a great view of the Alborz Mountains. If you need a rest from skiing, you can enjoy a day exploring the mountains by foot and meeting local people in the street. Or take a rest in the backyard of the hostel, sit on the benches there and enjoy the sound of the river that runs through the yard. To make sure you find the hostel easily, watch out for a sign with a red 7 on it. From the road follow the stairs down until you see the hostel. If you are not sure, ask your driver to call the Seven Hostel Tehran at 00989353836810 for directions. If you go on IranTTS' private shuttle, just relax, the driver will know the place. If your wallet allows, you can also find more luxurious hotels in Dizin and for sure our hotel is the best option right next to the resort.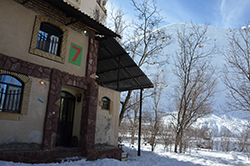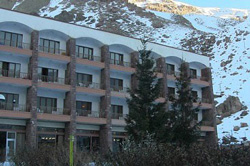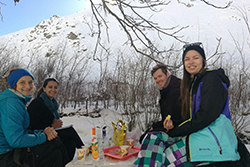 Important Notes:
• There are no official exchange places in the area, so make sure you exchange your money in Tehran before going to Dizin ski resort. Bring enough Iranian money or you will get stranded without money! And just like in the rest of Iran, your Master/Visa card is useless (there are no Master/Visa ATMs in Iran).
• With heavy snowfall the road to Dizin might get blocked and not accessible by car, until they clear the road. And here in Iran, clearing the road might take some hours, sometimes even a day. Therefore make sure the road is open before you get on the bus. To check, ask a local person to contact Iran's Roads Info at 141, or send us an email and we will be happy to let you know about it. If you have an Iranian number, please write it in the email so that we can call you.
11/24/2021 4:33:55 AM